What people are saying:
Bravo Neil! ...an incredibly valuable experience

The session was inspiring, setting the tone for an innovative and dynamic start to the week... if only every week could commence like this!


[Neil] is easily one of the best product/agile people out there, FACT

What struck me the most was Neil's ability to simplify intricate concepts, making them not only comprehensible but also engaging.


I spent a happy 4 hours in the company of Neil Killick learning about capability and implementation slicing. Excellent stuff.

10/10 can recommend

I'd rate this class as not-to-be-missed
Upcoming classes:

*In order to cater for global timezones, and for people's different needs in terms of workshop start and end times, I have created multiple "Zones" for classes. Some regions fall into multiple Zones, so check the workshop times below for options in your part of the world. The regions listed in each Zone are based on a start time no earlier than 6am and an end time no later than 9pm.
You are welcome to register for classes in Zones outside of your region if you prefer different start/end times.
Zone 1

Australia (East) (GMT+11)

– 8am to 10am
New Zealand (GMT+13) – 10am to 12pm
US (West) / Vancouver / Pacific (GMT-7) – 2pm to 4pm
Ecuador (GMT-5) – 4pm to 6pm
US (East) / Ottawa (GMT-4) – 5pm to 7pm

Argentina (GMT-3) –

6pm to 8pm




Zone 2

UK / Ireland / Portugal (West) (GMT+1) – 6am to 8am

Europe (Central) / South Africa (GMT+2) – 7am to 9am
Europe (East) / Israel / Jordan (GMT+3) – 8am to 10am
India / Bangalore (GMT+5:30) – 10.30am to 12.30pm
Australia (West) / Singapore / Hong Kong (GMT+8) – 1pm to 3pm
Tokyo (GMT+9) – 2pm to 4pm
Australia (East) (GMT+11) – 4pm to 6pm
New Zealand (GMT+13) – 6pm to 8pm

Zone 3

Europe (Central)

/ South Africa (GMT+2) – 6am to 8am

Europe (East) / Israel / Jordan (GMT+3) – 7am to 8am
India / Bangalore (GMT+5:30) – 9.30am to 11.30am

Australia (West) / Singapore / Hong Kong (GMT+8)

– 12 noon to 2pm
Tokyo (GMT+9) – 1pm to 3pm

Australia (East) (GMT+11)

– 3pm to 5pm
New Zealand (GMT+13) – 5pm to 7pm




Zone 5

Australia (West) / Singapore / Hong Kong (GMT+8)

– 9am to 11am

Tokyo (GMT+9) – 10am to Noon


Australia (East) (GMT+10)

– 11am to 1pm
New Zealand (GMT+13) – 2pm to 4pm
US (West) / Vancouver / Pacific (GMT-7) – 6pm to 9pm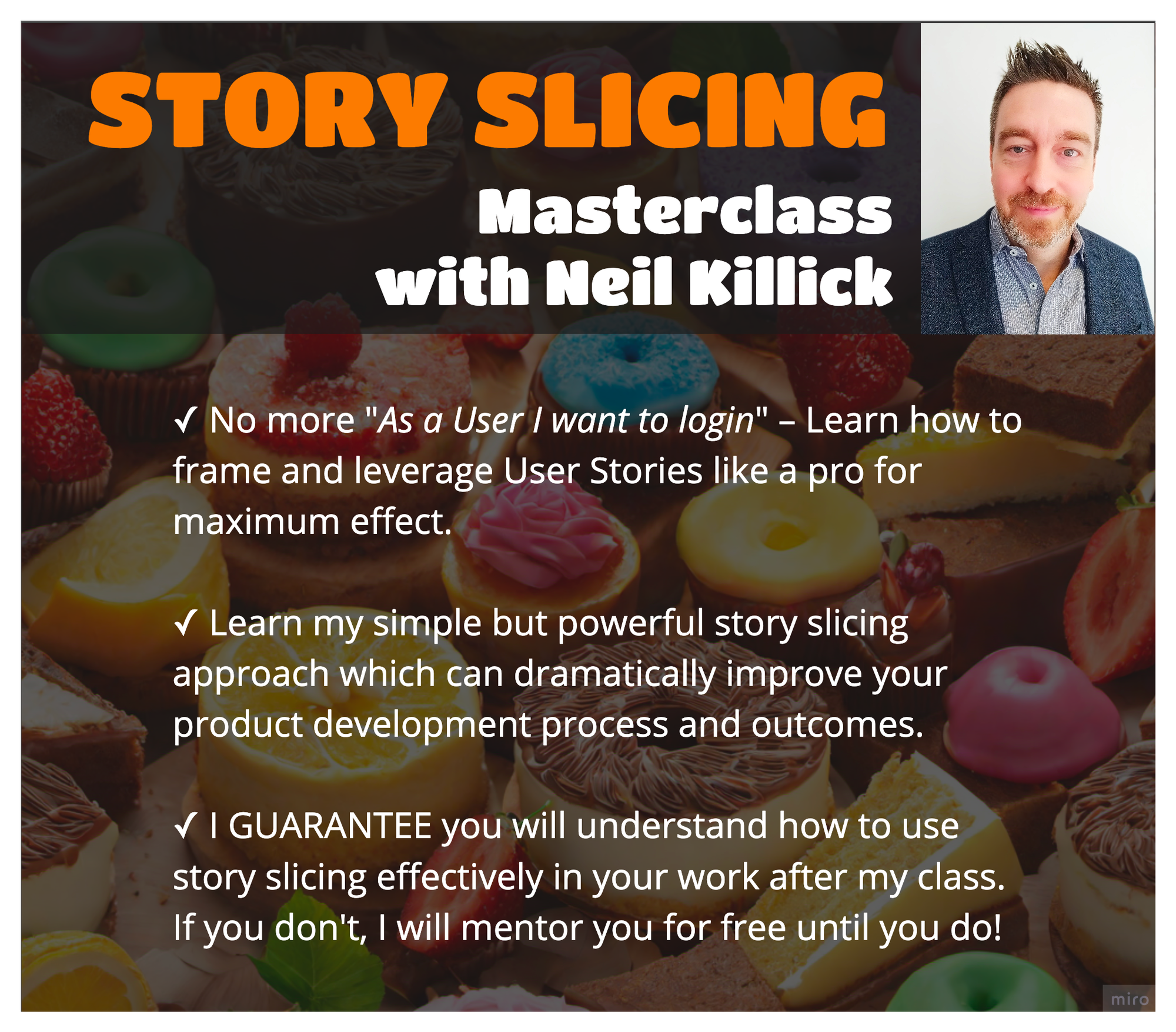 Full testimonials
I spent a happy 4 hours in the company of Neil Killick learning about capability and implementation slicing. Excellent stuff. I also enjoyed his State of Nation Lean Agile product-based rants :) thanks, Neil :) Sign up if you can to anything he does.
~ Andy Tabberer, Standards and Practice Lead at Co-op
---
Bravo Neil! Very engaging and practical content. I had the privilege of attending... and I must say it was an incredibly valuable experience. Neil's engaging style kept everyone involved throughout the workshop. However, what truly stood out was the content itself – practical and presented in a wonderfully simple manner. The workshop not only provided a clear understanding of story slicing but also equipped us with practical tools that can be implemented right away. For anyone involved in product development and management, I wholeheartedly recommend Neil's training. It's a must-attend for those seeking to enhance their skills and strategies in this field. Shout out to Neil for organizing such an insightful event!
~ Nadir Khan, Founder and Principal Consultant at Agilitie
---
Last week I had the pleasure of attending Neil Killick's superb story slicing masterclass. For me, effective slicing is one of the table stakes for real #BusinessAgility, but too few do it effectively. I have taught a lot of slicing workshops over the years, but one can always learn, and when I saw Neil had a new course I immediately got on board to see what was at the "bleeding edge"... I'd rate this class as not-to-be-missed for Product Managers and Product Owners, and highly beneficial to serious Agilists, Designers, and technical leaders.
~ Daniel Prager, Director of Coaching and Learning at Everest Engineering
---
🚀 Kicking off this week with a unique twist! 🌟 Bright and early at 8 am, I had the incredible opportunity to participate in a captivating Story Slicing Masterclass, guided by the brilliant Neil Killick. If only every week could commence like this! 🌄 The session was inspiring, setting the tone for an innovative and dynamic start to the week. Exploring fresh concepts and approaches for managing an extensive wave of new features was very useful. One highlight of the masterclass was delving into the realm of Capability Slicing—a technique that truly resonated with me. 📊Already, I've begun weaving this newfound knowledge into my role as a Product Owner. Taking a step back, I'm in the process of crafting a comprehensive capability map about all users, regardless of their familiarity with technical skills (yes, even those who haven't quite cracked the code of SQL!) to do their analytics with a help of AI models (or tools like Coginiti 😉 ). 📈 This strategic overview using Capability slicing has already painted a panoramic view of the potential avenues ahead, shedding light on the most valuable fragments that will pave the way for features bringing the most value to our users... My excitement knows no bounds—truly, there couldn't be a happier learner! 🙌
~ Greta Klimavičiūtė-Minkštimienė, Product Owner at Coginiti
---
This week, I had the exceptional opportunity to participate in Neil Killick's "Story Slicing" masterclass. As a Product Owner, my quest is always to discover actionable strategies that enhance not only my approach but also the overall efficiency of my team. Neil's masterclass was precisely the treasure trove. What struck me the most was Neil's ability to simplify intricate concepts, making them not only comprehensible but also engaging. Through his guidance, I've gained a more structured way to break down our product backlog items, which will undeniably enable us to deliver value more swiftly and consistently. His insights illuminated facets of story slicing that are often shadowed, yet hold immense potential to revolutionize the way we prioritize and execute.
~ Elizaveta Glushkova, Product Owner at Coginiti

---
We did capability slicing, and decided on releasing to only certain customers on certain technologies. The team liked it, and it will probably help us release sooner.
~ Idan Melamed, Back End Developer at Nanit
---
I wanted to follow up to say thank you for last week's Story Slicing Masterclass session. It was great, well run, and I loved the small group size.
~ Chris Urian, Senior Manager at Centric Consulting
---
Loved the 2 sessions.
~ Adam Wensor, Founder at BandscoreCast
---
I'm a big fan of Neil's thinking on story slicing. When I saw this I signed up two of our product owners immediately. 10/10 can recommend.
~ Matthew Mullins, CTO at Coginiti
---
I've signed up for Neil's slicing masterclass. Get in on the action.. PS also, go to anything he does. He is easily one of the best product/agile people out there, FACT.
~ Andy Tabberer, Standards and Practices Lead at The Coop
---